Happy New Year everyone! I hope everyone had an amazing break and holiday season! Resting and doing things for me and my family is the best part of these breaks for me. It is like hitting a reset button. I did try to learn new things and spend time on things that I usually neglect (no worries, housekeeping was still neglected).
Over the holidays, I was reminded how sometimes we don't mind mild stress or frustration when it is something we care about or something new we want to accomplish/learn. My dad came to me the week before the break with a request for my mom's Christmas present that he needed me to create. He found her doll from the 1950s and took it to get cleaned and clothing made for it. He had everything ready to go but the shoes, he could not find any. He wanted me to 3D print them for the doll. In my mind it would be a round little baby foot and couldn't be too hard. Boy was I wrong! This doll had massive Barbie "stand on my toes" shaped feet. And I only had 3 days to get the shoes finished! I really had less than 3 days because I didn't want to spend time during the work day working on and it took hours to print!
Below I will share with you the process it took to create the shoes. But I wanted to point out what I learned from the process before getting bogged down with the details. So often we give students STEM projects and they have to create something based on our instructions. They don't get to pick and then we don't understand why they give up and quit so quickly. If I was given this task and it wouldn't have been to give something special and unique to my mom, I would have never stuck with it. Because the end result had meaning to me, I put time and effort into it and wanted the perfect finished product.
I also was reminded how good it felt to accomplish something that had me frustrated more times than not. It was a difficulty level above my comfort zone and when I finished I felt like I just climbed a mountain. It isn't often you are doing a celebration dance over something unless there was a moment you doubted that you would succeed. That frustration and doubt made the results so much sweeter. Students are growing up in a world where everything comes easy to them, they need that frustration and struggle. This is part of learning. If it works the first time, did you really learn something new or do something you already had the skills to make something?
So here are the steps I took to create the shoes, you'll see why I had a bit of frustration:
Took pictures of feet, turned into a transparent png, turned into an svg 3D file



I cleaned up svg and turned into a "hole"
Eventually started looking like a shoe and I used the foot measurements to shape the shoe. (so many layers I eventually crashed Tinkercad and had to clear my browser)
It took me 2 prototypes that didn't fit.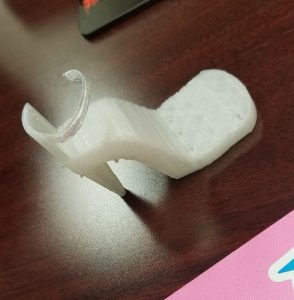 Finally 3rd print fit (so glad it worked bc was a more solid print)!!
It had to match her dress. Colored black with a sharpie then painted with black high gloss acrylic paint.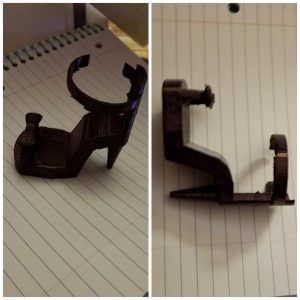 The finished product was just right. The shoes were sturdy enough that she can now stand on her own!